Certified Sustainable Means Value To You
Our standards, programs and certifications fully meet food safety, animal health and welfare, environmental and social responsibility, and traceability.
PezCo is…
Good for you: PezCo doesn't use banned antibiotics or other chemicals and all the approved chemical treatments are carried out in a responsible fashion.
Good for the fish: PezCo follows best practices in animal husbandry, addressing issues like disease control.
Good to earth: PezCo complies with standards that address issues like habitat conservation, water quality and effluents.
Good for people: PezCo adheres to local laws for worker safety, child labor and community rights.
Good for business: PezCo has supply chain traceability from the source to the marketplace.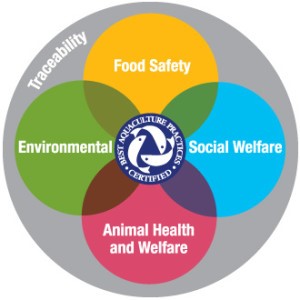 We are committed to conserving and responsibly utilizing the earth's resources as well as investing in the local community now and for generations to come. Our products are not only guaranteed fresh, they're guaranteed sustainable. Our production systems are certified as Best Aquaculture Practices (BAP) by the Global Aquaculture Alliance & Aquaculture Stewardship Council (ASC) Certified. The processing facilities employ Good Manufacturing Practices (GMP) and are Hazard Analysis and Critical Control Points (HACCP) certified.
All processed products are FDA approved, meet the highest quality standards of health and food safety certificates; as well as traceability assurance; controlling risk possibility for the consumer.

Global Aquaculture Alliance/Best Aquaculture Practices (Gaa/Bap) Certification
The BAP certification includes both sustainable farming techniques and a component of food safety, which benchmarks against the Global Food Safety Initiative (GFSI) standards. The GAA aspires to improve the overall quality and supply of aquaculture seafood to help meet world food needs. The organization supports technological research and shares this with members and research facilities.
Hazard Analysis Critical Control Points (Haccp) Certification
HACCP is a systematic, preventive approach to assure the safety of our food supply, and starts by identifying the critical points throughout the production process that could be hazardous to the safety of the food and establishing controls at these points to prevent the introduction of a problem. A HACCP plan also designs measurements to reduce these risks to a safe level. The FDA requires all seafood coming into the US be processed under a valid HACCP plan. Verification and validation of the HACCP plan is crucial to its' effectiveness. PezCo employs solid HACCP plans at each processing facility, and our plans have been validated by independent auditing companies.
Aquaculture Stewardship Council
ASC aims to be the world's leading certification and labelling programme for responsibly farmed seafood. The ASC's primary role is to manage the global standards for responsible aquaculture, which were developed by the WWF  Aquaculture Dialogues.
ASC works with aquaculture producers, seafood processors, retail and foodservice companies, scientists, conservation groups and consumers to:
Recognise and reward responsible aquaculture through the ASC aquaculture certification programme and seafood label.
Promote best environmental and social choice when buying seafood.
Contribute to transforming seafood markets towards sustainability.